Introduction
This OddsMonkey review will be of great use to you, if you're a regular on the betting scene or if you have ever gone to Google to ask 'how to make money online' then it's extremely likely that matched betting is a phrase you've heard of.
Most people have.
The people that have heard of matched betting are then split into different groups; the cynics, the confused and the winners.
If you currently fall into one of those two former categories, then our OddsMonkey review will unquestionably change your stance by its end.
What about if you're the latter? If you're a matched betting expert or OddsMonkey user then it is plausible you'll be clued up on a lot of what we cover.
Then again, we'd be fairly confident of unearthing at least one gem for you to enhance your current understanding.
Whatever your level of exposure to OddsMonkey is right now, we promise you'll have a deeper understanding by the time we reach our conclusion.
Why? Our OddsMonkey review explores every corner of what's available on their matched betting platform. Both the good parts and not so good parts will be getting flagged. That's why.
Before we crack on, let's explain what matched betting is.
We'll keep it in a nutshell for this article.
Matched betting sees bettors utilise bookmakers' free bets and promotions to guarantee themselves a profit; this is achieved by placing 'lay' bets via a betting exchange.
By following this process, you cover every possible outcome of an event, meaning you cannot lose, except for human error (you bet on Liverpool instead of Arsenal etc.).
Is OddsMonkey legal?
It's one of the questions that gets asked a lot as people begin to weigh up dipping their toes into the world of matched betting. Well, let us reassure you. OddsMonkey is 100% legal.
Its main market is the United Kingdom and Ireland. The brand does have global reach through with countries such as Sweden and Australia just two others that can reap the rewards on offer.
Of course, OddsMonkey is a site that facilitates matched betting. This means the only caveat to the above is that your country's wider betting rules will apply.
Is OddsMonkey a scam?
We're into another much-asked question from the matched betting doubters.
We understand.
Here OddsMonkey offers a site that offers guaranteed profit, yet very few people, in the grand scheme of things, are actually members.
It's only natural to ask why everyone isn't doing it and, unfortunately, there are many scams out there.
The good news is that OddsMonkey isn't one of them.
Yes, the idea of making guaranteed money from betting does sound too good to be true, but it's not. This is not gambling.
Is OddsMonkey a get rich quick scheme?
Our OddsMonkey review has already dispelled the myth that it's illegal and that it's a scam; so, is it a get rich quick scheme then? The answer is no. No, it's not.
You'll need a modest balance to start with. Generally, a minimum bankroll of £50 is recommended – although the more you start with, the quicker you'll work through the rewards.
The whole process will take time to master too. Even the most experienced matched bettor has to invest time into turning a profit; the phrase 'you get out what you put in' couldn't be better suited.
The more time you invest, the more experience you gain, the more money you will make.
So, no, it's not a get rich quick scheme.
What OddsMonkey allows you to do is make a steady side hustle income and a decent sized one at that.
OddsMonkey Pricing
Once you've decided to take your first steps onto OddsMonkey, there will be a few options for you to consider in terms of how you move forward. In the next couple of sections, we'll be chewing over those options and laying out the differences between them.


OddsMonkey Free Trial
Right, your first option, is a free trial. We'd always recommend using this as it allows you to feel out the platform before committing your funds to a longer-term plan. So, what does the OddsMonkey free account consist of?
Well, the main thing to note is that even without you paying a penny, OddsMonkey will walk you through the process of your first few matched bets.
This includes detailing the free bet offers of four bookmakers. This entire process comes in the form of seven tutorials; once you've followed them, you'll be somewhere in the region of £63 richer. That's free money in every sense.


You're not expected to master the art of matched betting just from a tutorial though; there are certain things you'll need some further help with – like calculating how much money to lay on the betting exchange – and the free trial also gives you access to tools that do this for you too.
The software you get your hands on is the oddsmatcher and bet calculator; free access will only give you limited visibility. After all, OddsMonkey can't give it all away for free! (We'll be covering the two aforementioned tools a bit later).
Finally, the other big inclusion in your trial is the profit tracker. This is simply a page within your OddsMonkey account where you'll keep track of all your bets.
A minor inclusion like this probably doesn't feel that important. If you decide to give this matched betting service a serious crack, you'll grow to value this tool massively; you'll need it to keep track of your money and, no, using a spreadsheet isn't just as good.
OddsMonkey Premium
The free trial is decent, but it leaves an awful lot of potential untapped. Luckily for you, it can all be unlocked by becoming an OddsMonkey premium member.
You have a couple of ways you can become one.
Depending on the route you choose there will be slight differences to what you get, but the variances are minor.
The most popular option is to pay monthly; this will cost you £19.99 per month. It's not a strict contract so you can bail out at any time if you change your mind.
The other option is to pay a one-off annual fee of £180. To save you the maths, going down the monthly route will cost you £239.88 – that's an extra £59.88.
Of course, you might be sat reading this thinking you'll be £180 out of pocket if you sign up and don't get on with the premium membership. Don't worry, OddsMonkey offer a 30-day money-back guarantee on both their annual and monthly memberships.
In terms of what premium membership gets you in comparison to the free trial, you'll be getting an insane amount more for your money. The obvious thing to say is that you'll be getting absolutely everything mentioned in this OddsMonkey review.
However, if we listed every little piece of detail of what you can tap into with OddsMonkey premium this would become a pretty exhaustive read.
If you are on the fence, there are few ways better to sum up, the key differences between the premium and free offering than this; the free trial opens up four sign up offers for you worth £63.
The premium membership opens up over 70 different sign-up deals and can see you bring in over £1,000 profit. In summary, our opinion is that it's worth signing up to OddsMonkey premium.
OddsMonkey Registration
Forget the idea of long-winded sign-up forms that take you half an hour to fill out. You can get your free trial account set up in under 30 seconds. Literally.
All you need is a user name, email address and password. Depending on your preference, the registration process can be linked to a Google or Facebook account.
From there, it's simply a case of proving you're 'not a robot' and you'll be set to get started on your matched betting journey.
Of course, if you decide that you want to opt for a premium account, then OddsMonkey will require a few more details. The details you'll need to hand are a billing address and a form of payment method.
Most people will pay on card, but e-wallet options like Paypal and Skrill are also available if you so wish. That's it; you're now ready to make some money!!
OddsMonkey Login
After going through the registration process, you'll need to sign in to your account. This is something that will obviously become a regular occurrence, but you do have a few options.
You have the old fashioned username and password gig, but, as touched on above, you can also link your account to your Google or Facebook accounts to make the process easier.
It's worth noting that OddsMonkey is willing to 'keep me logged in' too. This is a minuscule note, but you'll likely be dropping in and out of the platform several times a day as you really get to grips with matched betting.
For one thing, logging in every time will become annoying and, secondly, it will take you a few seconds.
What's that saying? Oh yeah, time is money!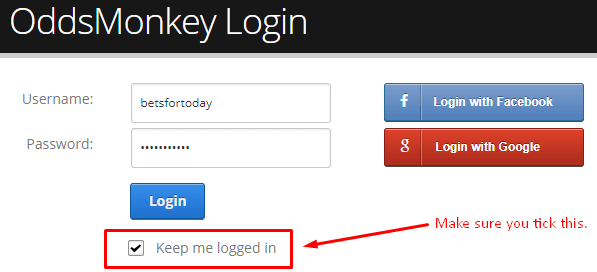 Initial Thoughts on OddsMonkey
After navigating the sign-up and login processes, you're bound to be impressed with what you find 'on the other side'. The OddsMonkey site is crisp and clean with the white, black and blue colour scheme meaning it's easy on your eyes; that's something you will appreciate when you cotton on to how long you'll spend on the platform.
The layout of menu options is self-explanatory, and within a matter of seconds, you're able to dive into the first tutorials, which means you'll be on your way to making money in no time at all.
Another thing that immediately stands out is the true size of the opportunity at hand.
As a premium member, a visit to the 'Tools' section will have you giddy with excitement as you find page after page of matched betting options.
There are countless bookmakers – and betting exchanges – listed covering a whole host of different sports and bet types.
Not only does this mean you have loads of ways to make money but you'll have plenty of chances to do so whilst practising match betting on the sports you carry a real interest in whether that be football, horse racing or even esports.
What's perhaps the most striking thing when first exploring OddsMonkey though is how they've made the entire process of making money through matched betting simple.
Their blog posts cut through the jargon.
The forum is regularly in full swing with helpful members.
All of the available tools provide an easy to use front end despite blatant amounts of insane coding and complexity in the background.
OddsMonkey Offers
We'll be analysing the software in full shortly, but first, we need to talk about matched betting offers.
Offers fall into 2 primary categories:
Sign-up offers (when you first open an account)
Reload offers (opportunities that appear after your account is open)
It's also worth noting that as well as sports betting offers, OddsMonkey also covers in great depth casino offers. Casino offers (sign-ups and reloads are highly lucrative and should form part of any aspiring matched bettors portfolio.
OddsMonkey Sign-up offers
When you take your first steps into matched betting, this will take up the majority of your time. You will be following the matched betting guides to sign-up at bookmakers and make your first profits.
The initial bookmaker bonuses are the easiest and often most lucrative profits for time spent that you will make in this matched betting site. This is because the bookmakers are keen to get you onboard, with offers such as 'Bet £10 and Get £30 in Free Bets'.
The type of welcome offer you can expect to receive is generally easy to complete. You place a qualifying bet with your own cash and then receive free bets from the bookmaker, which you then turn into profit.
In fact, at the time of writing, completing all of the sportsbook welcome offers will see you walk away with a profit of over £1,000.
Certainly, worth having, I'm sure you'd agree.
Completing the welcome offers is a great way to grow your betting bankroll, gain experience and get used to the suite of matched betting tools at OddsMonkey.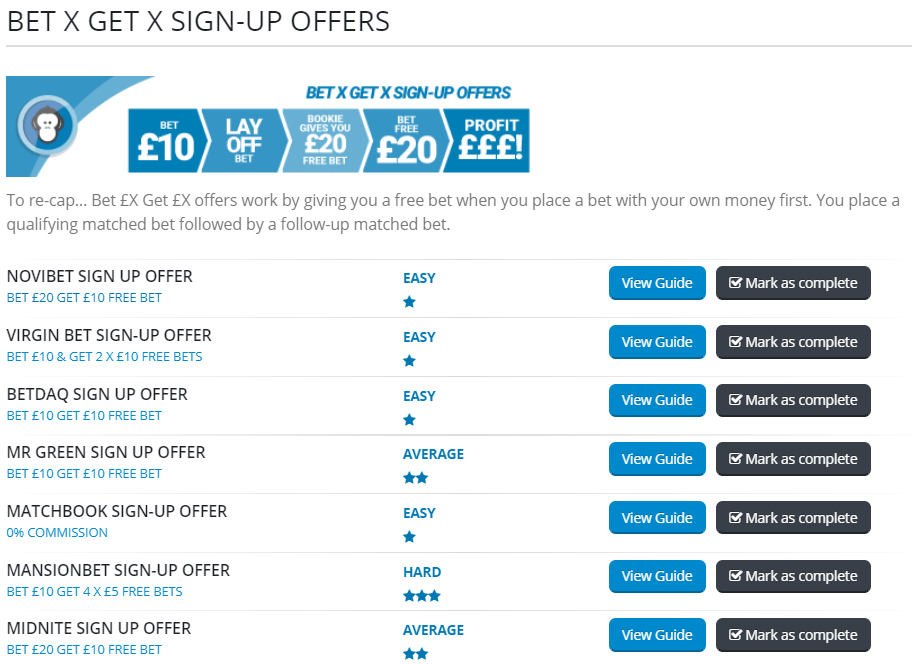 Ongoing Reload Offers
A common question is "Can I make money from matched betting after sign-ups?".
The answer is a solid, yes.
Whilst the matched betting sign-up offers are superb, they are just the beginning of the adventure.
Once your bookie accounts are open, you are then ready to take advantage of the regular betting promotions they offer.
These occur on a daily, weekly, monthly and even annual basis (Cheltenham, Grand National etc.).
The £1,000 of profit from the welcome offers is great but the greater profits come from completing the offers that arise each week.
There are literally hundreds of profit opportunities that come up each week, but don't worry about how and where to find them.
OddsMonkey do the leg work for you, finding the profitable offers, and posting them in a daily offer calendar along with full guidance on how to complete the offer successfully.
The matched betting daily offers calendar allows you to filter the results by date, difficulty, profit type, name and whether you've completed the offer or not.
The calendar also allows you to bookmark offers to follow-up on later on, ideal for if you're checking offers on your phone whilst out and about.
Overall, this calendar will be your go-to daily resource for making profits for months and years ahead.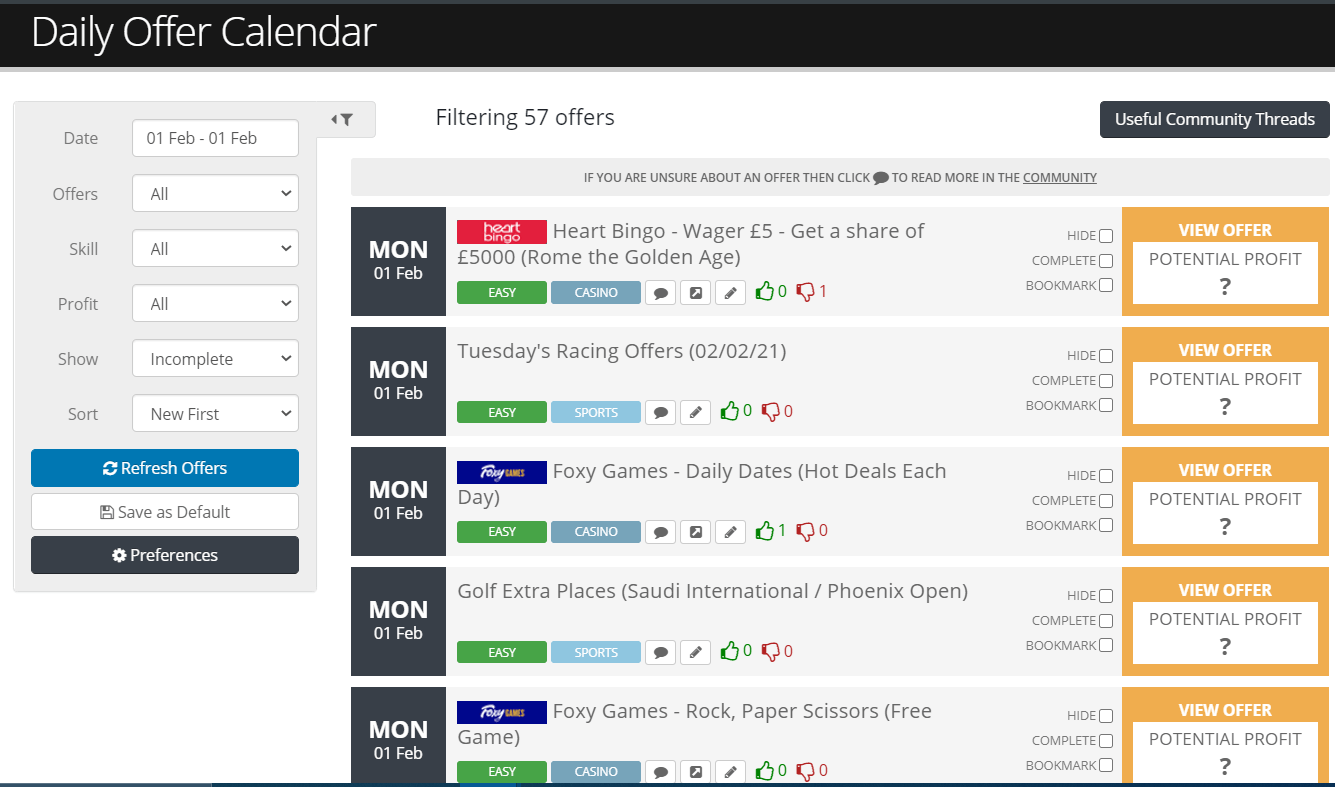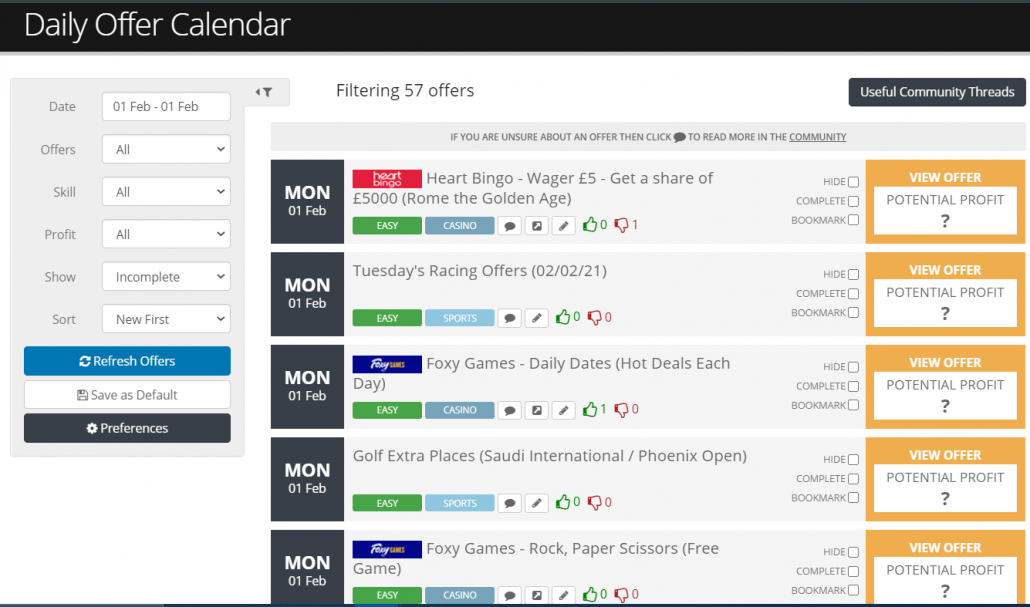 Casino Offers
Making profits from online casino offers seems a little weird at first glance, after all, the house always wins, right?
Not quite, thanks to the casino hub and some basic maths. OddsMonkey does the maths for you to calculate the expected value of an offer.
The expected value indicates how much profit you can expect to make from an offer. It's rare that you would ever make that exact amount, however, if you completed that same type of offer over and over, you'll find the average will be pretty spot on.
The casino hub has several useful sections and tools to use. You get access to offers available for opening new accounts, offers for existing customers, including weekly bet clubs.


There are also extensive casino training guides, an expected value calculator and a slots database which contains details of thousands of slots available to play online.
With matched betting on sports, you do not need to have any interest in a sport or betting to make profits each month. The same fact rings true here, it is just a case of following step-by-step guides to start generating profits.
Casino Welcome Offers
Casino welcome offers are often risk-free or heavily skewed in the punter's favour. Expect to receive free cash or free spins to play with simply for opening an account, no deposit required. If you don't deposit money, then you cannot lose money, only time.
At the time of writing, there are over 20 risk-free, no deposit welcome offers for casinos listed on OddsMonkey.
They provide a great opportunity to learn how to complete casino matched betting offers in the correct manner, without risking any real cash.
Casino Bonuses
Free cash given to play with at a casino is called a bonus and casino bonuses often come with wagering requirements. If you receive a free £10 bonus with x10 wagering required, then you would need to place £100 of bets with the bonus before any winnings convert into real cash you can withdraw.
The vast majority of promotions offered by online casinos are not worth doing, therefore having them done for you is fantastic.
OddsMonkey staff take all factors into consideration when calculating the expected value of a casino offer, meaning you only see offers you should profit from if you keep repeating them.
Another example of a great offer is when a well-known high street UK bookmaker offered cashback on roulette every Thursday. You played with £10 of your own cash, and if you won, you kept your winnings. If you lost, then on Friday, they would refund you, in cash, up to a maximum of £10 in cash. Quite literally, a no-lose offer!
Offers that good don't occur every day, however, when they do, the will be featured in the OddsMonkey casino hub.
OddsMonkey Tools & Software
In the earlier section regarding premium membership and pricing, we told you that there is a host of benefits to taking a paid package with OddsMonkey.
In the following sections, we'll be getting into the nitty-gritty of some of their tools on offer. Before we do, though, we're just going to have a quick overview of their offering.
First of all, let's get it out there; OddsMonkey is not the only matched betting site offering their services in the betting niche.
However, they were the first to deliver slick, accurate and user-friendly software to facilitate the process. In fact, a couple of the other well-known matched betting sites actually used a white label version of the odds matcher from OddsMonkey until they generated enough funds to produce their own versions.
There's your evidence of the software being excellent quality.
The other thing to touch on is quantity.
This is important because there are so many ways to profit using OddsMonkey and, a lot of them use slightly different tools.
At this moment in time, there are a combined 21 tools and matched betting calculators.
OddsMonkey OddsMatcher
We're getting into the real meat of our OddsMonkey review; the oddsmatcher, which is their main matched betting software, the main piece of kit on the platform.
Your ability to use it will be fundamental to the success you have. So, what is it?
Well, as the user, you'll see a smart-looking table with alternating blue and white rows that show you the existing opportunities for matched betting.
There are several key columns. The main things you'll be looking at are the odds, which are displayed as back bets – in blue – and lay bets – in pink, and then the percentage rating assigned.
In matched betting, you want to select matches with a rating of less than 100%.
Anything with a rating of over 100% is an arbitrage opportunity, but that's a whole other world, best avoided for account longevity.
The other key thing to point out regarding the oddsmatcher is how much more value it has when operating as a premium member.
The major upside is that you'll have the ability to see substantially more bookies odds than that on the free trial.
How many more?
Lots; the free trial only offers odds on a couple of bookies whilst premium membership unlocks prices from over 90. This is important because it will provide you with more matched betting opportunities; that means more profit.
Finally, there is an extra perk to the oddsmatcher for premium members paying annually. It is one that often goes unnoticed.
You'll find a grey horizontal ribbon at the top of the matcher that tells you when the oddsmatcher last refreshed the betting odds data.
Well, those who opt for the £180 annual payment trigger an auto-refresh. It's a small detail but one that can prove valuable in fast-moving markets.
When you choose a reload offer to complete, the oddsmatcher will become your go-to matched betting tool. It will quickly help you find a betting selection with the best odds and give you the exact stake required for your lay bet.
OddsMatcher Filters
So, you now know what the oddsmatcher is, but how can you optimise it for your needs? Your standard view will provide you with hundreds upon hundreds of possible bets to place.
The oddsmatcher does come with a filter option though and utilising this will come in very handy. How do you toggle the filters?
You'll find the filter button at the top of the table. Once you open the filter screen, you'll find a host of options. You can limit your table to show specific sports, certain markets, set bookmakers, exclude opportunities involving certain betting exchanges.
You can even flex the odds and rating you want to target. Finally, once you've found your magic formula, you can save your filters and set alerts, so you never miss a money-making opportunity again.

Place Bets In OddsMonkey
You might be starting to understand that OddsMonkey is somewhat of an industry leader when it comes to the technology and software side of things. They also show no signs of slowing down. In addition to their own tools, they've also joined forces with two of the leading betting exchanges to sharpen how you matched bet.
OddsMonkey Smarkets Integration
The first betting exchange to partner with OddsMonkey was Smarkets. Smarkets are a global trading company that was formed in 2010. Since then, they have managed over £15bn worth of trades. Sports is one of their biggest markets alongside politics and current affairs. What does the partnership mean for you?
Firstly, the integration allows you to place lay bets directly from OddsMonkey on Smarkets, a real timesaver, but the major part of the deal sees OddsMonkey customers qualify for 0% commission.
Given how often you're likely to use them, this is a great saving. The standard Smarkets commission is 2%.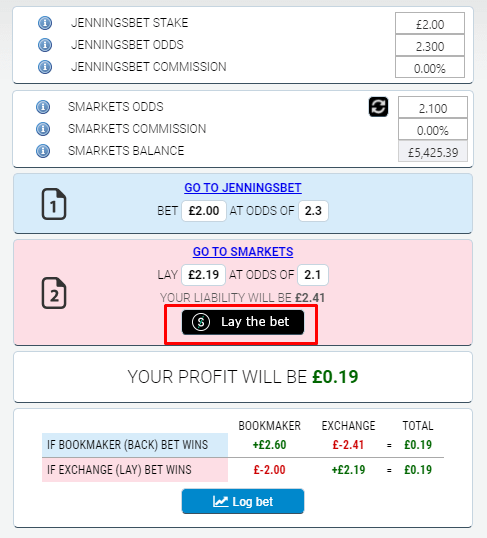 OddsMonkey Betfair Integration
The other partnership the OddsMonkey team have struck up is with Betfair. Betfair, who are part of Flutter Entertainment who also own Paddy Power, are the largest sports exchange in the world and, like Smarkets, you'll be lucky enough to tap into the lay betting from your OddsMonkey account.
The hassle of logging into multiple websites is now greatly reduced. This is a real positive move by both parties. Unfortunately, time is all you'll save with the Betfair integration as commission rates still apply to your winning bets.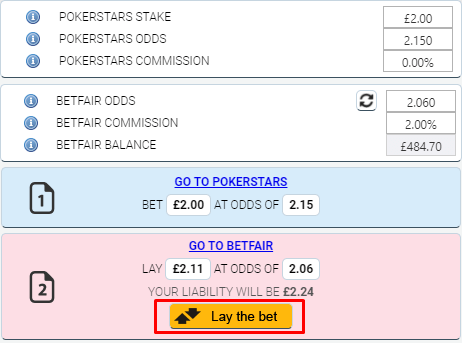 Racing Matcher
Although the concept of matched betting is the same regardless of what sports you wager on, some of them bring added complexity. Horse racing is one of those sports. Even for non-racing fans, the racing matcher is something you'll want to invest some time in understanding.
Why? Simply put, horse racing takes place all year round, meaning you have more opportunities for making money.
Think about it; if you limit yourself to betting on football, you'll have a few months of the year where opportunities are greatly reduced as the main leagues all break at similar times.
What is the racing matcher then? The horse racing matcher is very similar to the main odds matching software we discussed earlier. Of course, there are a few differences. This tool only focuses on horse racing, and you'll only see betting opportunities where the bookmakers offer free bets or have refund options attached to them, e.g. 'get a free bet if your horse finishes 2nd'.
All this detail is configured automatically by OddsMonkey. It means you can get in and out of the tool efficiently. The ability to do so is extra critical with horse racing because of how rapidly odds change; this is another place where the betting exchange integration carries a huge benefit with the bigger race festivals and Saturday's ITV racing being perfect events to combine both elements with.


Each Way Matcher
We'll be honest, when you're new to matched betting its probably wise to leave the each way matcher alone for a little while; at least until you're more comfortable with the process you need to follow.
Where the eachway matcher really comes into its own is after you've worked your way through the sign-up bonuses.
Why? You don't need access to bonuses to make money from it.
That said, the each way matcher can be used with free bets and bonuses if you have them.
For those who don't know, each way bets are a single bet that effectively becomes two; it's backing someone (usually a horse) to win or to 'place'. This means finishing in a position specified by the bookmaker; usually, you'll be looking at a top-three finish.
After placing your 'back' bet, you'll need to go 'lay' the each way component in a betting exchange. This means you'll have several balls to juggle. Thankfully, the each-way matcher takes control of any complication you face, making it a relatively simple process.
Extra Place Matcher
We won't spend too long chatting over the extra place matcher because it's not too dissimilar from the each way matcher we've just looked at.
Again, it's one for the more experienced matched bettor. The key difference between the extra place matcher and the each-way matcher is that the extra place matcher is built specifically for bets where bookies are paying extra places; this is fairly commonplace on larger horse racing events golf tournaments.
To be specific, this matcher tool really comes into its own during events such as Cheltenham, The Grand National, US Masters Golf and many more.


Dutch Matcher
The next matched betting tool we're going to look at is the dutch matcher.
Dutching is another more advanced technique for making money, but it's a path you'll want to tread at some point.
In brief, dutching allows you to cover all event outcomes by placing a series of 'back' bets with traditional bookies.
The dutch matcher presents opportunities like this where the odds on offer guarantee a profitable return.


It's just like matched betting but without the 'lay' bet.
The main benefits are that a) you don't use a betting exchange, and therefore you'll have no commission to pay and b) because you'll be betting with multiple bookies it will help your qualifying spend, which helps to unlock other freebies.

Acca Finder
The final tool we're going to talk about is the Acca Finder. Again, this is another one for the more experienced matched bettor. Like most of the more advanced components of OddsMonkey, we'd suggest you work through sign up offers first.
After that, the acca finder is a fantastic way to keep on earning. You're probably well aware of bookmakers offering different types of 'Acca insurance'.
The acca finder is tailor-made to find the matches and associated odds that present the most profitable outcome for you.
OddsMonkey App & Mobile Experience
Given the number of layers there are to becoming a matched betting expert you'd be forgiven for passing on the opportunity thinking 'I'm too busy' or 'I'm never home'.
You really shouldn't let it stop you giving it a go.
The OddsMonkey staff have crafted a brilliant site that works seamlessly across any device, be it a desktop, tablet or mobile phone.
Of course, things like the oddsmatcher tool and matched betting calculator are slightly easier to reference on bigger displays – such as traditional monitors – but there is no loss of usability on mobile devices; it just means you have to slide your screen from side to side to see the full range of information.
The last thing to mention on the mobile experience is that you can also get OddsMonkey's in-app tool; this truly puts matched betting at your fingertips no matter where you are.
The app gives you access to everything we've already spoken about, including things like the daily offer calendar and the abundance of guides that OddsMonkey provides to get you started.
Apps are available for both Android and iOS devices.
Customer Support
We've covered an awful lot around matched betting at this point. Naturally, you might be tentative about starting with concerns over the jargon or sheer depth of tools we've discussed. You shouldn't worry though because OddsMonkey has your interest at heart. Genuinely.
Remember, they don't make money without your continued custom, and that means that the better experience and the more profit they can help you achieve, the more likely you are to continue using their service.
The helping hand you get from OddsMonkey's staff is excellent. You'll have access to a range of tutorials, which are available to read or watch, that guide you through everything from what matched betting is, the process of laying a bet and on to how to use their range of tools.
Beyond that, though you've also got plenty of options for getting assistance. You've got a detailed FAQ section and, when that doesn't help, you've got a truly phenomenal community to tap into; this is essentially a forum where users post queries and/or nuggets of advice such as strong matched betting opportunities.
When those routes fail you, there are the more traditional avenues to explore, namely contacting OddsMonkey directly. The customer service team is extremely responsive during their operational hours of 9am and 7pm Monday to Sunday and can be contacted via email, web form, or social media.
You don't have to take our word for it though. The independent review site Trust Pilot currently has OddsMonkey customer service rated at a remarkably impressive 4.7 out of five; that's from over 300 reviews.
Closing Thoughts
Whether you've dabbled with matched betting elsewhere in the past or are contemplating taking it up as a newbie to earn some extra cash on the side, you'll be hard-pressed to find a better provider than OddsMonkey. That's a promise.
You'll find countless videos and guides that walk even the most inexperienced bettor through the processes needed to make a profit.
On top of that, OddsMonkey use market-leading technology to locate sign-up and reload offers on the regular whilst smartly built calculators and integrated betting exchanges take out a large chunk of the stress you'd face if getting your matched betting experience elsewhere.
Finally, their prices are comparable with all the other market players, whilst their 30-day money-back guarantee means turning premium really is a no-risk move.
In truth, though, you won't need that protection. We're sure that you'll be so satisfied with what OddsMonkey will do for your lifestyle that the only question you'll be asking is 'Why didn't I start this years ago?'.
All that remains is to wish you luck on your matched betting journey.